After my cheap chinese reg/rec decided to up and melt itself I've been looking into alternatives. The difference between a market $100 and $180 reg/rec is simply how many cooling fins are used. I've found this schematic which is a shunt type reg/rec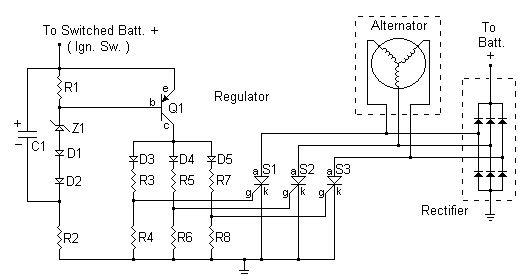 with components as follow:
Q1 - pnp TIP42
Z1 - 12v Zener diode IN4742
D1-D5 - si diode IN4148
R1 - 47 Ohms, 1/4W
R2 - 75 Ohms, 1/2W (can be varied from 50-100 Ohms to vary reg output)
R3-R8 - 680 Ohms, 1/2W
C1 - 10uF/50v
Issue is S1-S3 are 25A, 800v scr's (NTE5460) which are supposedly obsolete (or at least difficult to find for my time frame). I was wondering if there were any substitutes I could use for this, ie NTE5554 which is 25A, 400v as the voltage is rpm variable and 400v does sound reasonable (service manual rates performance of 14-15v, 18.5A @ 5000rpm)?
Also wanted to use a pre-made rectifier to save space and couple better with the cooling fins. Will it matter how much greater the current/voltage rating on the rec is? I've been told to use double the current as a guideline but there are rec's with cooling fins that have much higher current ratings.
And Finally for this application will a homemade PCB handle the currents or should I solder thicker gauge wires between components on a blank board?