Hi, I would like to build this circuit
(Source: hanssummers.com/images/stories/fast/circ.gif)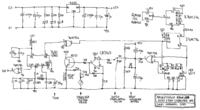 that uses a 64MHz module as a master oscillator. I would like to replace this with a homebrown oscillator.
Signal quality does not matter too much because it is converted to square wave from the ICs after all.
Searching at the web I found different solutions
1.
http://www.circuitsonline.net/forum/view/48065
(look this image in the page
http://www.uploadarchief.net/files/download/butler.png
this is a FET butler oscillator.
2. Another circuit from Elektor mag
**broken link removed**
3. A no name one
http://www.seekic.com/circuit_diagr.../65_~_110MHz_harmonic_crystal_oscillator.html
4. Another noname one
http://www.next.gr/inside-circuits/colpitts-harmonic-oscillator-100mhz-l9117.html
5. An interesting multivibrator that uses a crystal!
http://www.eleccircuit.com/symmetrical-harmonic-oscillator-circuit/
All of these operate on the 3rd harmonic I think. It would be more convenient to find one that operates on the 4th harmonic, since a common 16MHz crystal can be used. I do not know if anyone of these could operate in the 4th harmonic as well.
Which way should I better go for my application? I need something fast and simple.
- - - Updated - - -
An update:
By having a second look, probably a good a simple circuit for my app is the elektor one
**broken link removed**
because the output level will drive nicely the following chips
But it says that:
"When, for example, an 8 MHz crystal is used to obtain an output frequency of 72 MHz (9 × 8 = 72), the frequency determining inductors and capacitors have to be adjusted by a factor of 10/8."
I guess that for 7.1MHz crystal the components must be scaled to 10/7.11 ??
Also what does this scaling mean, I mean how I will calculate the new values?
To verify if I do it right, consider the C2 with a 10/7.11 scaling factor. My calculation shows that it will have a value of 23.463pF, is that correct?
Last edited by a moderator: