We are trying to made an pre-amp circuit for microphone using BF245A. In simulation it worked well. But with breadboard we got problem, the output is absolute silent.
Here is our circuit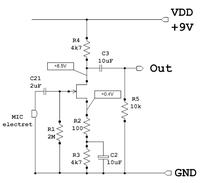 Our data: as measured, Vg=0V; Vs=~0,4V; Vd=~8,5V. With "Soundcard" oscilloscope could obverse the electret mic give ~10mV before C1.
Any suggest for this?! Is the BF245 died? We changed other BF245 but result is the same. Or it was bad biased? Here is Vg - Vs = -0.4V.
The electret need to bias?
Thanks.
Last edited: