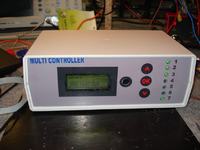 Features of the Multi Controller:
based on Atmega32
controlled from IR remote control (RC5 standard)
supports up to 8 sensors DS18B20 (normal or parasite mode)
7 enable/disable channels (relay)
1 PWM channel
PCF 8583 clock with full date
3 control buttons
auto channel (enable/disable BISTABLE or MONOSTABLE mode)
state input (it is or it is not)
2 analog inputs (for example, connecting pH sensor, lighting sensor or thermometer PT100)
RS232 communication (MAX232 inside)
In the basic version (which can be expanded, according to the user's needs), the device can be controlled by 6 channels using an IR remote control (buttons 1-6), 7th channel is the timer (you can enter the time of enable and disable), additionally, you can make it dependent on the logic signal and set mono or bistable operating mode.
The device can be used for control over the PC. The system checks whether the computer is on. If it is not, the system sends a signal to switch it on, if it is already on – the system does nothing. Analogically if the computer is off – the system checks if it is off and when it is on, the system sends a signal to switch it off, when it is already off – the system does nothing.
Thermometers' status is refreshed every 20 seconds.
Signal from the IR remote control is sent to the computer by RS232 after each receive, so that the computer can also be remote controlled.
The device itself can also be controlled by the remote control.
The menu is handled using only three buttons.
Settings are stored in the EEPROM memory of the processor.
PWM output can be used for control over the lighting. Pictures of tests present halogen bulb connected to it.
Button 0 on the remote control disables the lighting and then pressed again causes return to the previous setting.
Button mute on the remote control or arrow up on the device cause refreshing temperatures (if needed).
You can enter menu from the remote control.
Pictures: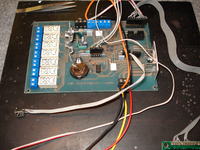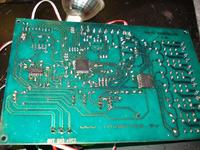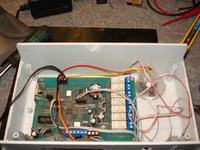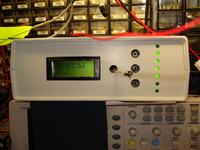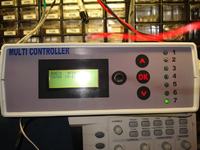 Link to original thread (useful attachment) -
MULTI CONTROLLER - bardzo uniwersalny sterownik