I want to use a digital PLL to generate the following frequency modulated continuous wave chirp signal as shown in the following graph.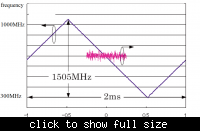 The PLL architecture is also shown below and the PLL loop bandwidth is 30MHz.

Am i able to generate the FMCW signal with the PLL?
(a) yes, because the modulation period is 2ms which corresponds to 500Hz modulation frequency which is much less than the PLL bandwidth of 30MHz
(b) no, because the bandwidth of the FMCW signal is about 1000MhZ-300MHz=700MHz which is much larger than the PLL bandwidth of 30MHz, the PLL can not pass such a wide band signal.
which argument is right? (a) or (b)?
Thanks in advance!