Joined

Jan 29, 2004
Messages

491
Helped

28
Reputation
Reaction score

28
Trophy points

1,308
Location
Activity points
Can anyone please shine some light on this behavior ?
My internet provider comes solely airborne from a 'hot spot' by my window, into Wifi.
Usually works well. If I interrupt surfing like 'to take a leak' , fetching a web site after those couple of minutes results in delays to about 30-40 seconds if successful. Many times get the 'Site not found' message, and paired to no-activity shown on the spectrum analyzer.
On my spectrum analyzer, can see activity at 827.4 MHz when all works.
When idling on the web (or as typing this), activity on the spectrum analyzer is yes and no periodically. After a while, no activity at all.
Is that normal ? Do cell towers shut off a customer signal link after some inactivity time ?
---->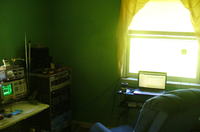 Last edited by a moderator: