Hi, we are trying to control the speed of the compressor by using an H-Bridge INVERTER CIRCUIT
The problem is that when we use this circuit on the compressor, based on our observation.. the RELAY keeps on ticking back and forth. The inverter Circuit outputs a SQUARE WAVE DC Voltage which we interchange its polarities to produce our AC VOLTAGE.
What could be done?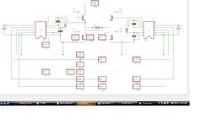 we just represented the MOTOR as a resistor.
T2 and T4 are the pair transistors and such as T3 and T1
our H-bridge works since we were already able to control the motor of an electric fan, but we know the compressor is different...
Hope you can help us!