How to design a pipeline ADC without using negative ref voltages.Lets say for an 1.5b stage we have the residue signal 2Vin +/-Vref.if we dont use negative voltages then how can we subtract charge from residue??
My adc residue is like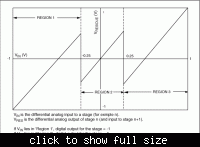 Vin from -1 to +1.I want to shift the residue in between 0.2 and 1.6...How can is do this without using -Vref any ideas??