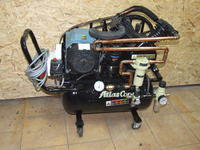 Presented here design is for you when you need a small and cheap compressor for painting.
It was made of two-piston compressor with two stages, a typical and easily available product with the following parameters:
two-cylinder compressor
lubricated with oil
cylinders made of cast iron
equipped with a pulley which also cools the compressor
suggested engine power to the unit 4kW
maximum pressure of 10 bar
theoretical capacity: 860 l/min
effective capacity: 600 l/min
You will also need other components such as: 4kW motor, tank for gas 50l, pipes, reductors, pressure switch, oil filter (for example removed from a mower) with performance of about 900 l/min, contactor, drier.
One of the assumptions of this design was to clean air in the oil filter, because it is often contaminated by paint. Then air is cooled in the radiator made of 3/4" copper pipes and it is cleaned from steam in the drier.
The pressure switch controls the three-phase contactor. The engine is significantly loaded and during work you can see that the compressor resists.
Small tank was used due to the fact that the compressor was to be rather small. It can be connected to the installation with 200 l tank.
When you want to make this construction, it is recommended to apply the check valve just after the head, not before the tank. In that way, when the switch turns off the motor, too big amount of air goes out of the cooling pipe and drier.
Pictures: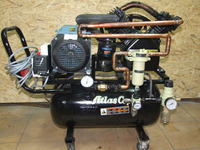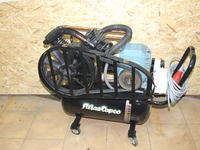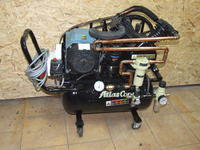 Link to original thread -
Sprężarka do malowania 400l/min