Hi all,
I am tesiting a full bridge inverter with LCL filter. I am getting noisy waveform at the load (R = 300ohms).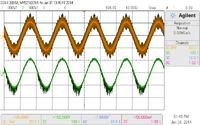 The yellow one is load voltage while the green one is voltage across capacitor.
Switching frequency of inverter is 50khz. The filter used is LCL filter (L1 = 12.4mH(inverter side inductor), C = 8.99uF, L2 = 4.4mH(output side inductor))
Could someone please explain why I am getting this kind of noisy waveform and How can I remove the noise from the output?