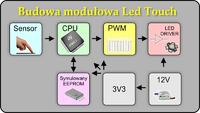 Construction of the touch sensor is based on the newest technical solutions applied in new series of AVR microcontrollers from STM.
ARM Cortex-M0 STM32F051R6T6 was used in this LED dimmer. It has 18 capacitive sensing channels supporting linear, rotary and touchkey sensors.
The principle of operation consists of switching LED lighting on and off. Dimming and brightening function acts as an additional feature, making the device more attractive. An important advantage of this device is also its low price in comparison with other solutions. The manufacturer published source codes of the capacitive sensors, what is another advantage.
Firmware can be downloaded from the original thread (link below). It includes complex software with use of two keyboards, which is very difficult to be implemented although this project is still developed.
Firmware is in demo version. It does not have an EEPROM emulator (does not save the level of brightness) and switches off itself after a randomly specified time.
Demonstration of such a keyboard:
The project was designed in Eagle 6.1.0. Board in resolution 1200 dpi is adjusted to laser printing and thermal transfer on a double sided board. CPU have headers for RS232 and SWD for programming. Each ARM Cortex-MX has a bootloader, so by a short circuit of BOOT to GND, after reset or switching on, the circuit can be programmed by RS232, because the circuit switches to the programming mode.
Module construction, blocks are very simple.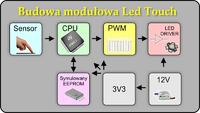 Keyboard board. The board consists of three buttons, the size of which is selected so that they can operate correctly when covered with 1,5mm plastic cover. Of course, the greater they are, the greater sensitivity.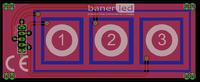 Microcontroller board. The board is placed under the keyboard which is connected by pin headers.

Linear keyboard board. Remember that this kind of keyboard works very unstable.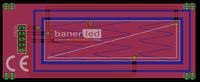 Schematic of the bottom part with the microcontroller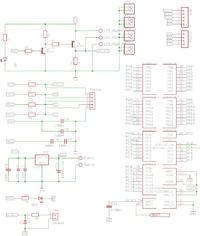 Schematic of LED driver with module

Schematic of keyboard: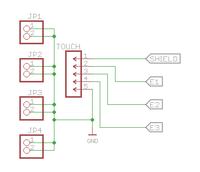 CPU board:

Keyboard: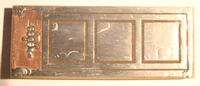 LED driver:

Link to original thread (useful attachment) -
Sterowanie oświetleniem LED poprzez klawiaturę pojemnościową (ARM STM32)