So me and my friends came up with this idea of a board game which works along side your mobile, the game uses an electronic circuit with micro controllers and bluetooth for user input (board) and we have a set of parts that plug in to the holes of the board.
For the sake of simplicity I've made a sketch using a board of 10x4 and only 4 different parts
I've tough I could use RX and TX but I don't known any chip with that much I/O, I also find it very difficult to picture how the wiring will be done, maybe with flexible copper I don't know, but I can't see that being wired with standard wire when I get to the full sized version, probably 60x10 (Not sure), would be a mess.
here is the link to the sketch :
**broken link removed**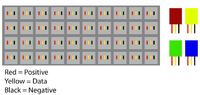 each part needs to TRANSMIT ONLY these variables:
-Which part is it (ID)
-A Variable from 1 to 8 which indicates where the part is pointing to, its at the top of each part and it must be dynamic (can be changed and transmitted after the peace has been placed) Ill just use a 8-way switch for that...
I'm no engineer just an enthusiast, any ideas are welcome.
Last edited by a moderator: