i have purchased a lpc1788 Development kit.
LPC1788 cortex-M3 512 kB of flash memory, 96 kB of data memory
HY-LPC1788-Development Board Features
JTAG connector ( 2*10 pin 2.00mm ) for programming/debugging with ARM-JTAG.
LCD interface with backlight and TouchPanel circuit 800 * 480 7" inch TFT LCD touch screen.
on board 256Mbit EEPROM memory
on board EMC 32MB 32bit data bus SDRAM
on board EMC 128M NAND FLASH memory
on board EMC 8MB NOR FLASH memory
on board 2MB SPI FLASH memory
http://www.hotmcu.com/hylpc1788core-p-40.html
8bit color depth image display example using internal flash 512KB.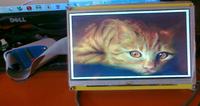 16bit color image array is not work with internal flash.
.\obj\project.axf: Error: L6406E: No space in execution regions with .ANY selector matching main.o(.constdata).
.\obj\project.axf: Error: L6407E: Sections of aggregate size 0xbb83c bytes could not fit into .ANY selector(s).
does any one know how to load image array to external flash ?
Last edited: