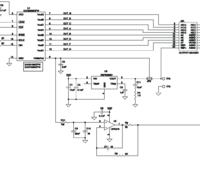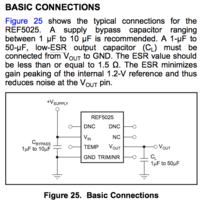 The first image is taken from the data sheet for a TI 8x DAC evaluation board. it shows C11 at the REF5025 output with a 1R5 Resistor to GND.
When I checked the data sheet for the REF5025 it doesn't show this R to GND (second image) - it quotes "A 1-μF to 50-μF, low-ESR output capacitor (CL) must be connected from VOUT to GND. The ESR value should be less than or equal to 1.5 Ω."
So - these two sheets seem to contradict each other. The original data sheet says a Cap with an ESR ≤1R5 and the DAC eval data sheet shows a Cap with an R of 1R5.
Any comments on what one might be right or wrong?
Thanks