Hi Folks
I am using a variable gain amplifier AD605 and providing it a time variable gain as a ramp voltage(VGN) from 0 to 2.5V such that it will amplify the input 140mVpp within some milliseconds. But the problem here is that the input amplifies until a certain point and then it remains at that level thereafter without any further amplification observed as shown in the picture attached. I am not sure what's the reason behind this, is it the output range of the amplifier or any other reason. CAN ANYONE SUGGEST SOME USEFUL POINTS.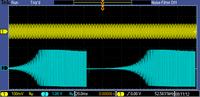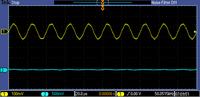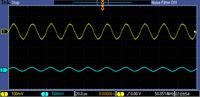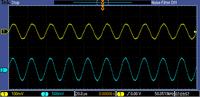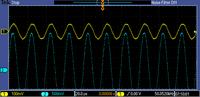 CHANNEL 1 INPUT AND CHANNEL2 OUTPUT
IMAGES TEK00189-192 SHOW THE PATTERN OF INCREASING OUTPUT AND TEK00202 IS THE IMAGE ZOOMED OUT IMAGE SHOWING NO CHANGE IN OUTPUT AFTER A CERTAIN LIMIT(CHANNEL2).
Datasheet AD605:-
https://www.analog.com/media/en/technical-documentation/data-sheets/AD605.pdf