Joined

Apr 7, 2012
Messages

93
Helped

2
Reputation
Reaction score

1
Trophy points

1,288
Location
Activity points
while I repaired an inverter, I found one thing That I did not understand and ask for an explanation To you.
It is an 12v 220v modified sine wave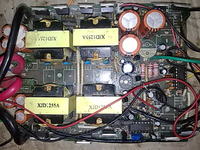 Internally there are four transformers each driven by two mosfet IRF3205.
the integrated oscillator is an TL494 and by its outputs (pins 9 and pin 10) drives alternately the mosfets with a pair of NPN / PNP (s8050 / s8550).
In practice, on the pin 9 there are a pair of transistors,from These leave from 4 resistors of 10 ohm and four IRF3205.
same thing for the pin10.
I 4 Transformers are in parallel.
Because with a single transformer and two mosfets the voltage is 90 V, while if connect them all arrive at 320volts after the bridge rectifier after the transformer.
I hope I Explained myself.
Sorry if the Talked at length.
Thanks in advance
erchiu