Joined

Aug 23, 2005
Messages

599
Helped

75
Reputation
Reaction score

41
Trophy points

1,308
Location
Activity points
LM675T Problem
Hey guys
I would appreciate if someone could help me,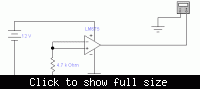 I connected the OPAMP LM675 as show in the diagram with both i/ps having the same potential 12 volts via 4.7k the problem is that why I am getting 12 Vots at output ?? then I connected these inputs to 12 volts via 10k again the same ouput,
Is there some thing wrong with the LM675 Power opamp IC??? Its heating lil bit on no load condition, is it normal?? It has the Heat sink with it.
I don't want to use dual voltage power supply now what should I do ??