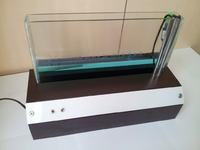 It is a version of home made PCB etching tank – a perfect solution for everyone who often need to etch a PCB and do not have space and time for making it using separate tanks and mixing the solution.
Here are the pictures of this design: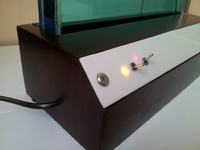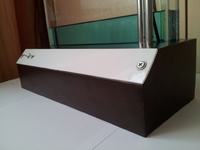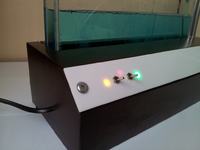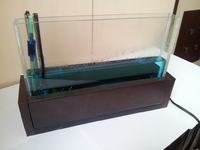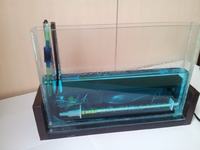 Dimensions of the aquarium are 34 x 300 x 200. It was cut to order and glued with sanitary silicone at home.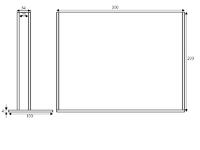 Solution is heated up to 45-47 degrees Celsius by a heater with a power of 90W within approximately 15-20 minutes. Solution movement is provided by aquarium aerator and bubbles are produces by aerating curtain. There is also a check valve which prevents from sucking the solution after the aerator is turned off.
The pipe and cable of the heater were conducted on the top through two aluminum pipes which were glued to the housing. The device also needs a basket for boards with a lid.
Housing was made of wooden furniture elements and plywood, then veneered with adhesive wallpaper.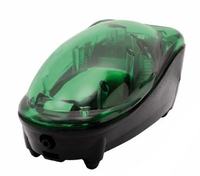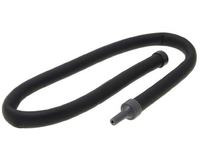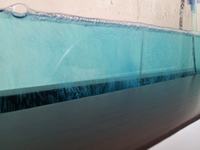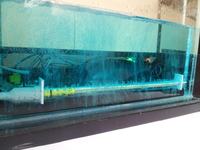 Electronic thermostat, schematic and PCB are shown in the following pictures.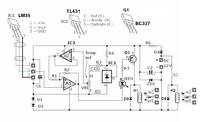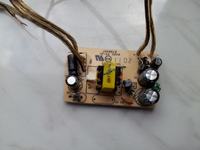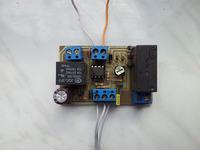 The PCB was made in ExpressPCB. The circuit is powered by a 12V power supply with a current efficiency of 200mA.
List of components:
IC1 - LM35 (temperature sensor)
IC2 - TL431
IC3 - LM358
LED1 - 3mm or 5mm LED
Q1 - BC327
D1, D2 - 1N4148
D3, D4 - 1N400x (x=2,,,,.7)
ZD1 - Zener diode, 13V
VR1 - 2.2K
R1 - 10K
R2 - 4.7M (responsible for width of hysteresis loop)
R3 - 1.2K
R4 - 1K
R5 - 1K
R6 - 33ohm
C1 - 100nF
C2 - 470uF/16V
relays on 12V (in this case there are two different relays, but the PCB can be processed for two the same relays as well)
Sensor LM35 was glued to the aquarium: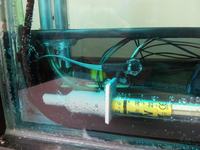 Two plane switches were applied to gain the easiness of assembly. The pictures also show the use of indicators.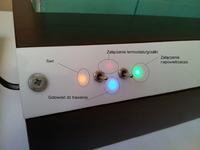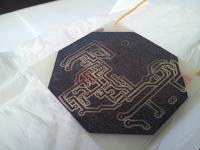 Pictures of the etching process: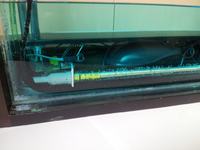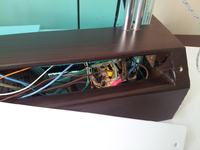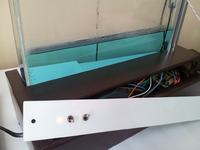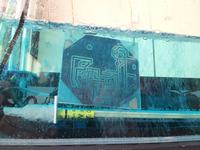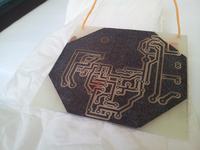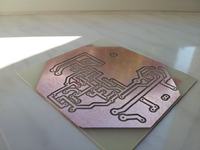 Video:
Link to original thread (useful attachment) -
Wytrawiarka do płytek drukowanych PCB