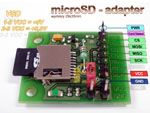 This project is a part of works on the WAV Player with use of AVR processor. It is a universal adapter for microSD memory cards. The basic aim of this construction was to make it possible to gain voltage supply of +5V or +3,3V, as well as the smallest size of the adapter.
The device uses a socket of microSD memory cards. It was mounted on the PCB so that the memory card protrudes a little in order to facilitate its inserting and removing. The circuit works with buffer 74LVC125 which provides using different supply voltages. Only input lines to the card are buffered: SCK, MOSI and CS. MISO line is not buffered in direction towards the processor. The whole was tested on two presented voltages and operates correctly even at very high speed of SPI.
There is also a possibility to connect/disconnect the supply to the card in order to reset it if something fails during the process of communication. Additionally derived CD (Card Detect) signal is very useful.
Schematic: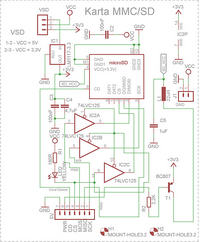 PCB is very small: 29x35mm. It allows the assembly on 3mm spacers from the front. On the rear, you can direct the pin headers down or side. If they are directed down, the PCB can be shortened by a few mm as in that part (behind the pin headers) there are no paths.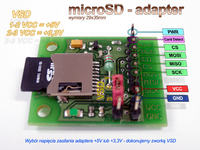 In a series of pin headers, just behind the PWR pin for supply control, there is an additional GND pin, in order to make it possible to connect the signal PWR to GND using a jumper. Then the power supply is switched on for longer time – of you do not have to control it from the processor.
Below you can see some pictures of the adapter: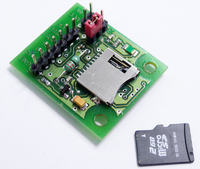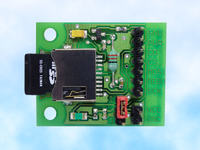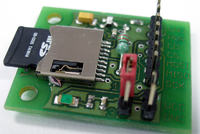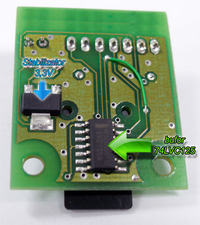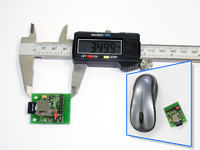 The adapter supports any microSD cards.
Link to original thread (useful attachment) -
Adapter microSD - podwójne zasilanie +5V/+3,3V do WAV playera