Joined

Jan 24, 2006
Messages

99
Helped

0
Reputation
Reaction score

0
Trophy points

1,286
Location
Activity points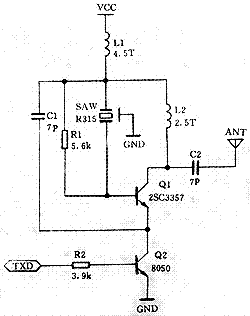 Hi,all
Here the circuit is a ASK transmitor,When the TXD=1,Q1 begin to oscillate,
But i don't know how does this circuit works?
And what't the Surface Acoustic Wave(SAW315M)'s role in this circuit.I don't think this circuit can work!
I think we need another capacitor across the Collector and the Emittor of Q2,as a feedback capacitor to makes Q2 oscillate.
Am'i right? Thanks~~~~~~