Hi,
I would like to switch on my AC load (aprox 4 amps 230v) only for 5 sec after I switch ON and must switch off till I disconnect main switch.
I'm better in software and can write c++ code if I use ATTiny & Triac for this purpose.
please help me to have the circuit with bare minimum components.
I somehow collected transformer less 5v power and Triac circuits. But, I cannot think of 5sec delay and combining all of these due to my little electronics knowledge.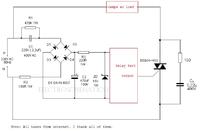 thanks in advance.
RV