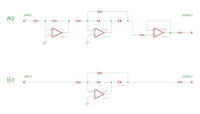 Hello,
I'm reassessing some decisions I made a while back regarding IO best practice - particularly with regard to my half-wave rectification circuit and specifically that diodes should be kept away from external inputs.
A) shows my current set-up where IC1A is an input at 100K impedance for an external source that could be AC or DC and anywhere between approx. +/-10V at anything from 20KHz down to LFO/Gate on a +/-12V supply. This feeds a half-wave rectifier which feeds a buffer. Nice stout input, dedicated half-wave rectifier, nice stout output (at 1K impedance).
So - ignoring the inversion path - is there any reason why I shouldn't just use B) with R5 setting the input impedance and
R9 setting the output impedance?
And a follow up question - any reason why I shouldn't swap the 914s for 4148s? Seems like 4148s come in many more package sizes than the 914.
I've got it breadboarded here in isolation and it seems to be working just fine...
Thanks,
J