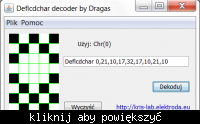 This project is associated with an Internet website that allows you to decode deflcdchar, which is your own definitions of characters for Bascom. In order to use that, usually you must have a connection with the Internet. Presented here decoder is an offline version, which can be used without the connection with the Internet.
This version decodes the basic pattern 5x8, but you can create the possibility to decode other patterns, such as in the online version:
**broken link removed**
.
More information can be found at:
**broken link removed**
Link to original thread (useful attachment) -
Deflcdchar decoder offline