Dear all
I have an old problem, I posted before but i didnt get an exact answer, therefore I am re-putting with a picture to make it more clear.
I am simulating the CMRR with the input common mode range (ICMR). at the higher ICMR I am getting less CMRR. may be one would say of course because the current source is changing, but I put an ideal current source and the input transistors current are identical. in addition I am using a current mirror Op-amp so both have the same identical load .
According to [Jakob book, P.722-723], at higher voltage I should get higher CMRR if I am using an actual current source, but I am always getting the same problem.
see the picture please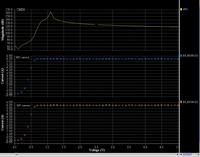 I would appreciate your kind help