Please help!
Hi, i'm quite new to pic microcontroller and i'm seeking some help. my project is on blind spot detection in car.The objective of this project is:
i.To alert the driver when changing the lane or make a turn
ii. To ensure the driver safety while overtaking or being overtake
iii. To prevent fatal accident involving blind spot region
Here i'm using pic 16f877a and ultrasonic sensor HCSR04. i thought of keeping 3 sensors on right side of the car. 1st sensor at extreme front,2nd at middle and 3rd at extreme back.when vehicle overtakes,the 3rd on goes high then 2nd then the 1st,in that case buzzer should beep and when vehicle comes opposite to the car, it cuts the 1st sensor then 2nd then 3rd , in that case buzzer should not beep..can anyone please help....
can anyone please right the source code for this project
https://obrazki.elektroda.pl/3358349200_1428729517.png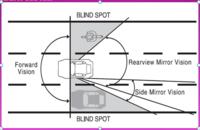 <a title="caaaaaaaaaaaar.png" href="http://obrazki.elektroda.pl/3358349200_1428729517.png"><img src="http://obrazki.elektroda.pl/3358349200_1428729517_thumb.jpg" alt="caaaaaaaaaaaar.png" /></a>