Joined

Mar 16, 2009
Messages

30
Helped

5
Reputation
Reaction score

2
Trophy points

1,288
Location
Activity points
suddenly unplugged usb
Detail Explanation:

USB host and device are connected directly without hub in between. For host the hardware blocks will be as following.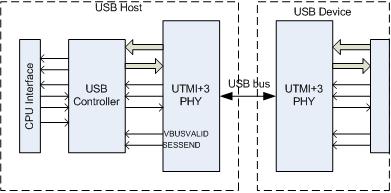 Now, as per the above setup environment, normal operation is going on.
If USB host is receiving the data, Host PHY in Rx mode. Suppose a receive transaction has 64 bytes to transfer. While these 64 bytes are being received by the Host PHY, suddenly USB device is unplugged in middle of receiving(may be at 32 bytes or at 58 bytes, etc). When it happens, I only know that VBUS will be settled below valid threshold voltage and "VBUSVALID" will be de-asserted on UTMI interface pin.
Now, my question is that
what will happen to "SESSEND" (UTMI interface pin), either session will be going on or ended? Is there any other signal also changes with this on the UTMI interface or not?
Please provide me the info at the earliest.
Thanks,
Nirav Bhatt[/youtube]