hi.
Happy new year...
I have a question.I simulated a monopole antenna by 3d FDTD (in VHF band) and obtained S11 figure for it.
but my s11 figure shows two resonant points.one of them is same as 3e8/4*(antenna length).but the other point is 200 MHz away from first point.why I have two resonance frequency?
which of them is true?my monopole antenna lenght is L=50 cm.
I have another question.why s11 phase figure is not regular?(for example ramp waveform)
thanks...
I attached s11 figure: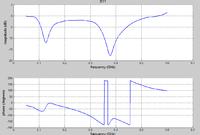 please help me...