Hi everyone, i been trying to design and simulate a rectangular patch w/microstrip coupling antenna @ 2.4 GHz W/FR4 but i can't get it, because at the time to simulate the patch in CST i've this error:
"Port number 1 is completely outside the calculation domain.
This usually happens when a port is located below a symmetry plane.
Please deactivate the corresponding symmetry plane or delete the port."
I made changes again & again but i get nothing (deleting port, add new port, start new project, change lenght of microstrip), any one could help me how to solve that error??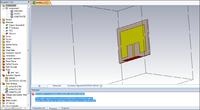 Really thanks for your attention.