Dear all,
How to calculate the total length of this meadered line? for this example: Center frequency is 2442MHz, 0.5 wavelength of the 2442MHz (around 61mm). The meadered line is also considered as collinear antenna for this example.
Whatever I'm calculated, the total length is hard to similiar with 0.5 wavelength (61mm). Please give me some comments or advice or mentor. Thanks.
From picture, the gap between the strip line is 1mm.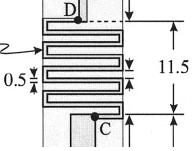 Thanks in advance.
Best Regards,