Hi
I bought a 9-0-9 vac transformer to replace the original for a vintage Ashly 1/2-space noise gate (might have been from someone on this list, I don't recall). The gate was working again, but the transformer is getting Chernobyl hot and smoking a bit, which describes me sometimes, but is probably not good for a transformer.
The original was for 600mA current; this one is over 1 Amp so it can't be trying to draw too much.
As you can see in the picture the secondaries are red, blue and yellow.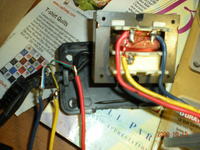 on the side of the tranny it says:
pri 120v WH-BLK. Sec 18vct 18VA Red - blue. Center tap yellow.
The primaries COULD be poloarized white and black but the wall socket plug is not polarized so I doubt it matters on the input side.
Because of the whacky-ass plug on the low voltage side (they use either a phone connector or a Cat 5 connector, not sure which; certainly nothing standard like a barrel.) the original transformer had 3 secondary taps OK, but each had two colored wires leading to the device (all PSU components other than the transformer are on the gate circuit board, which is why I was surprised it kept on working without blowing, smoking or melting). Black and yellow are 0 volts, so I connected those to the Yellow secondary.
Blue/white and Red/green are the 9 volt taps and I connected them to the blue and red secondaries respectively. That must surely be correct, although it does not say on the transformer case which might be +9 and which -9 volts.
Any ideas please? Maybe the transformer itself is just blown/shorted or however they die, but although I can measure voltage, that's about all the test gear I have.
Thanks
Phil