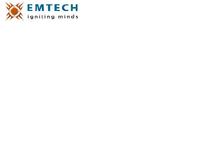 Six months Full time training in Embedded systems & Microcontroller's Programming.
EMTECH FOUNDATION is a leading training and R&D house located in Delhi, is currently offering Six month Job Oriented program for fresh Engineers. This training program designed by our industrial experts for fresh engineers wanting to pursue their career in embedded domain. This course helps a fresher to an industry ready engineers who can give output to industry on very first day of joining the organization.
As we are registered as manpower consultants with many SME electronics, so we are very confident in placement of our CFP students in industry and already placed thousands of students. So be a part of highly skilled team and realize your dream and feel satisfied of being an Engineer.
Eligibility: - B.Tech (ECE/Electrical/CS/Instrumentation)
CFP (Career Foundation Program) Coverage:
1. Electronics Fundamental(Basic/Analog/Digital/Power)
2. Circuit Simulation & PCB Designing
3. Embedded System & Microcontroller(8051/PIC/AVR/Renesas/Freescale)
4. Programming Language: Assembly, C,C++, Embedded C/C++
5. Hands-on experience on real world interfacing devices with technical protocol. (I2C, Zigbee etc.)
6. Five Compulsory hands-on live projects experience.
Scholarship will be given to suitable candidate.
No shortcut is available, but right guidance and training will give you success much earlier.
For further communication please contact:-Mr.Naveen/Ms.Nirmala
Contact:-9212331453/09212478366/011-25997805
Email_id:-
naveen@emtech.in
,
delhi.emtech@gmail.com
Visit our website at: **broken link removed**