Hi
I have this small problem. I am using a 20kV transformer and not sure why this seems to require a start-up it might be to energize the coil.
The total time it takes is about 5ms. Which is too long for my application. Is there a way to reduce this start-sup time or at best remove it.
Attached is the scope image.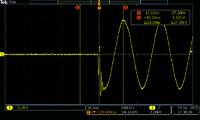 Samuel