Hi,
i am designing a suspended stripline filter at the moment and have an annoying problem: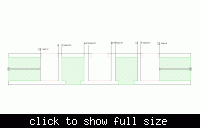 i have several parameters affecting the x-dimension of my structure. As you can see in the picture, when optimizing, i have dimensioned the feed lines to a length, so they do not get too short, when the gap-parameters reach the maximum value.
But when i want to increase the maximum parameter values, i have to manually resize the feedlines AND the box.
Is there a way to automatically resize the box, maybe bound to a parameter i set?
Thanks
Chris