pw0268
i am designing a circuit connection using SRM400 module,LM555 timer and a buzzer on the breadboard.however,i do not sure about the value of the resistors used to make the buzzer works..the operation of these devices are:
1. LM555 timer(replacement for MCU) will generate an excitation pulses to pin1(I_O) of SRM400 IC,PW0268.
2.the transmitted pulse will be output at pin 11(DRIVER_O) to the ultrasonic transducer.
3.once the ultrasonic transducer detect there is a valid obstacles detected,the reflected signals(ECHO) will be route to pin10(ECHO)
4.then the reflected signals will go through internal processes within the PW0268 itself until the reflected signals output reach at pin1(I_O).
5.the buzzer will work as what i expected when the ultrasonic transducer detected obstacles.
this is the PW0268 circuit diagram: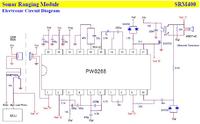 i had connected the pin1(I_O) to the input of the connection of the buzzer of testpoint(TP)1.as shown below: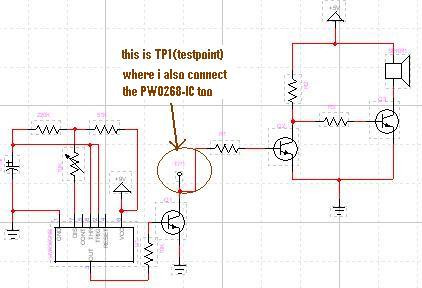 i would like to know how to get the exact resistor's values?is there any calculations method to do it?
thank you very much
i am looking forward to your replies as soon as possible