i'm using a hex file to program my PIC16F88 MCu via MPLAB as IDE. baud rate = 19200 and is using ICD2 clone.
1st problem: i am having a hard time connecting my PC to ICD2, i'm using USB-Serial CH340.
2nd problem: everytime i'm trying to program the pic, errors occur. i have a screen shot of the error which i will be posting as well. i don't know if the problem lies with the baud rate that i am using, or is it because i am using windows 7 x32.
screen shot: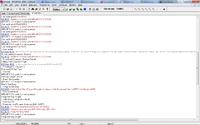 thanks in advance
regards, brew.