Hi guys,
I am new to labVIEW.
I am currently working on adding a time delay into my block diagram in labVIEW.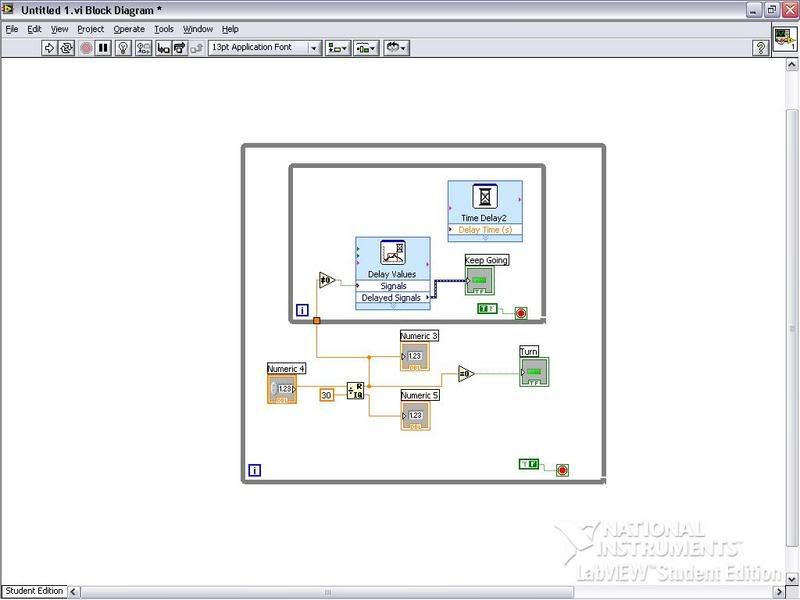 Brief description:
There will be a counter(numeric 4) that keeps counting. It will be continuously divided by 30 and the result will be displayed at numeric 3.
When numeric 3 (remainder) becomes 0 (after divided by 30), an LED(turn) be turned on.
When numeric 3 is not 0, another LED(Keep going) will be turned on.
The problem is this:

I want to extend the light up timing of LED(turn) for 5 seconds after it lights up, even WHEN numeric 3 is NOT 0 anymore. Before switching off.
But I cannot do this because the circuit is running continuously. So as long as numeric 3 is NOT 0, it i will be turned off.
I tried doing a loop in loop, and adding a time delay of 5s inside the sub loop. But it does not work because it delays the circuit outside of the sub loop too.
It
delays the circuit altogether
. Which is not what I wanted.
-----
Can i get advise on how do I go about doing this?
And is there any changes in the block diagram that I could make, including the additions and removing of new components?
Thank you and I apologize for the brief context as I am new to labVIEW and cannot explain in detail.