Joined

May 17, 2011
Messages

1,556
Helped

376
Reputation
Reaction score

379
Trophy points

1,373
Location
Activity points
Hi,
Those who use to work with triacs and thyristors may like to know about my AC zero-crossing detector (I already uploaded versions of it in the files section of Electronics_101 and LTspice groups).
As you will see, it differs from the already known equivalent solutions as follows:
(1) Its falling edge is within 100us (typically less) in all possible conditions (voltage, temperature and component characteristics... etc).
(2) Its total power dissipation is relatively low up to 400Vac (in comparison to known direct detectors).
(3) low cost standard components (as optocoupler 4N35).
I attached two versions; one for 60Hz and another for 50Hz.
Please feel free to comment or ask for any further details.
Kerim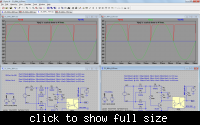 Last edited: