I am designing a source measure unit. Where it produces the output 24V voltage to power the transmitter and measure the loop current. Attached is the hand sketch. Please check it.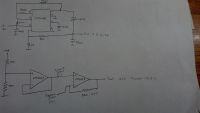 For testing, I have applied the current input from a precision current source and measured the output voltages. With my LCD and some software programming, it displays the value with 0.1uA stability. I am happy with the output.
But now I want to connect the transmitter and measure the current. From 24V, should I can directly connect it to the transmitter positive and negative input of LTC2057(B). Is that right?
- - - Updated - - -
When I connect the transmitter as i said, current value in the LCD display is fluctuating. So I tried to power the transmitter externally using APLAB. Now the display value is steady. It seems the boost converter creates the issue. How can it be solved? any help.