Lately i've been in need of limiting the RPMs of single phase synchronous motor. I've tried using light dimmer, but it didn't worked out really well. So i've began reading about synchronous motors and VFDs. I understood that you have to change frequency of AC voltage, not it's duty cycle. But commercial VFDs are expensive devices built from expensive components (most of them cost one or several times more than my motors).
I am experimenting with synchronous fans of different sizes, small synchronous motor from coffee machine, small motor from microwave oven and 50l hobby air compressor. I'd like to see if i can regulate RPMs of some of these motors. Some of them for fun, some of them for profit and some of them (fans and compressor) to make them run quietly.
:bsdetector: So this is what i've came up with. (And yes, i know it's some pretty serious crazy----)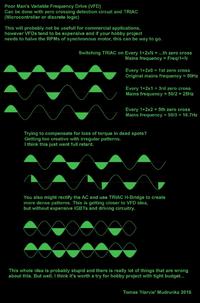 [from http:// i . imgur . com/yK32GXP.jpg]
I think that while this is pretty f------- up, it might work with some motors, while it might fail terribly with others. What do you think? Please be gentle, remember it's just for fun.
This is not about how to build proper VFD, but how to build wannabe VFD for $10 in few hours.
Last edited by a moderator: