Hey guys, i am trying to build a simple temperature controller. That will turn on a heater when it is less than a set temperature and turn on cooling device when it is to hot and does nothing at the set temperature. To do that i did it a bit of research and i put together the below. Which i hope you can see.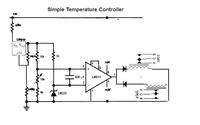 I built it and it does not work. Which is kinda what i was expecting. If you could give me a hand on how to go about fixing it. i think it may have to do with my resistors but i am kinda stumped and sick of going around in circle's.
oh and this is my first circuit.
I have had a good look around the forum and it looks all pretty cool if not complex.
so any help would be appreciated.
thanks,
Tim