Joined

Oct 7, 2011
Messages

463
Helped

60
Reputation
Reaction score

58
Trophy points

1,318
Location
Activity points
Am MOSFET inverter (H-Bridge) is giving power loss of 4W even without a load.
The details are given below:
V = 12V
F = 100KHz
MOSFET Rds = 1mOhm
The gate input to all the MOSFETS are absolutely clean with almost no overshoot, gate voltage is 10V.
When I connected only the lower two MOSFETs, and gave the input signal, the current drawn by the 12V battery was 90mA, including driver current.
When I connected the upper two MOSFETs also, the current increased to 350mA (average).
I have also blown off a few upper MOSFETs by over heating.
Oscilloscope readings show pulse current as high as 15A during switching. However, there is little possibility of shoot-through as the dead band is 1uS and driver rise time is only 185nS.
Also since the internal resistance is only 1mOhm, even a continuous 15A would cause negligible heating, forget about pulses. Some where or the other both voltage and current are occouring simultaneously. But why? There doesnt seem to be a good reason... Where is this current pulse arising from?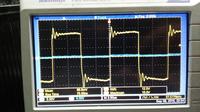 (Output waveform)
(Voltage blue, current yellow)
Please help!