cpld rs232
Can someone give me a suggest on how to built RS-232 multiplexer?
from 1 com port from computer(host) to became 64 com port(slave) or 32 com port(slave)
basicly controller by RTS or DTR and CTS or DSR Host(computer) for decided which com slave active.
The speed from 115.2K to 57.6K or 38.4Kbps.
system block
1.PC Com---max232--MCS-51(DS89C450)--CPLD CY37256P160--MAX208--COMs
Picture
rs232.mux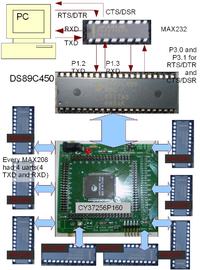 RTS or DTR choose numbers of slave port(1-32) by sending the strings of data
with Visual Basic,C,Delphi or another PC programmer language RS-232.
The CTS or DSR will pick the numbers of slave port(1-32) which is actived.
(seems like loopback,but the loopback from MCu and CPLD detection)
The MCU serial bit banging program will decode by muxdemux CPLD.
There was Idea from
www.circuitmaestro.com
.
Unfortunedly the slave output ports only with 8 slave port and 9600bps.
or
2.PC Com---Max232--CPLD CY37256P160--MAX208--COMs
Picture
CPLDonly.jpg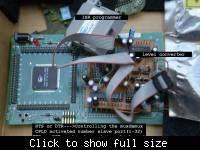 There was idea from Philips AN040 aplication note but it was manual switch.
Anyone Master/guru's suggestion will apreciate.
Thank's
HC