Hi guyz,
Hope you will be all fine. I am making signal generator using stellaris launchpad TM4C123g. I am getting Sine wave, saw tooth and square wave at the output. But the problem is that when i increase the frequency, output voltage (across capacitor) decreases in case of sine and saw tooth wave due to decrease in reactance of capacitor.I want to have same amplitue at output. For this, I thought a non-inverting amplifier circuit that will depend on the frequency. As frequency increases, its voltage gain will increase. So, in following figure, i replaced R1 with a capacitor and selected the combination of R2 and C such that it has 2 gain at 10KHz. But i am not getting sine wave at all at the output (while input is sine wave).
PS: Amplitude of input to the op amp is small (to avoid the saturation).
Biasing of op amp is enough to have output without clipping.
Is this circuit is valid for this purpose? or another circuit could do the job?
Thanks in advance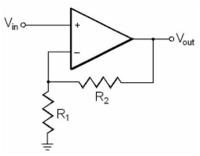 Last edited: