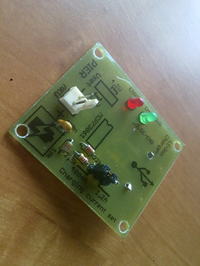 If you have to charge different Li-ion accumulators in size 14500 16340 and 18650, this charrger is perfect for you. Its construction is based on MCP73861 chip. It has adjustable current from 0 to 1,2A, which is wide range. Its another advantage is resistance to reverse accumulator connection. The chip has final voltage selectable between 4,1 and 4,2V. It also has a built in timer, which after a certain time switches off the charger. There is also cell temperature control, but you can resign from it, because it would require mounting a thermistor to the cell.
You can select the current of charging by a jumper: 400mA and max 1,2A. 400mA for smaller cells and when you charge from USB and 1,2A for cells 18650 and external power of the power supply. If it is too little for you, you can apply a 10k potentiometer in place of maximum current adjustment, so you reach smooth adjustment.
Due to the fact that final voltage is rarely fixed, you can use only the fields of copper which should be connected using a tin in order to select. The PCB was made in thermal transfer method in laminator. Its size is 48x40mm.
Pictures: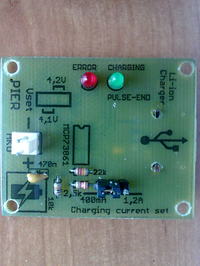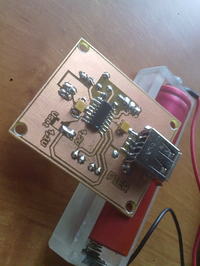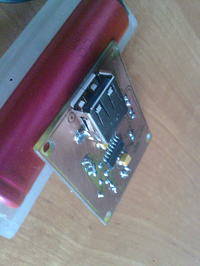 Link to original thread (useful attachment) -
Ładowarka akumulatorów Li-ion Li-poly