Hello everyone, I'm totally new here, so I'll just start from the beginning:
For the past few weeks I've been trying to properly simulate the behaviour of a simplest AC/DC circuit (i.e. Vsin simulating the stepped-down voltage from the transformer output + full wave rectifier + capacitor for filtering) and a buck converter. The point is, I'm almost sure i'm not getting something right, as the simulation brings up results not exactly up to my expectations. Please, have a look:

And this is the mentioned circuit: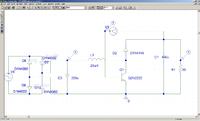 Vpulse parameters are TD/TR=1u PW=100u, PER=200u, V1=5 V2=0
Does the circuit need some galvanic separation behind the filtering capacitor? What am I doing wrong? Please help, thanks in advance.
I'm also attaching a .zip contatining complete PSPICE schematics.
Best regards.