Hey all! I'm new to this forum and very new to the subject of electronics. I'm quite eager to learn more of the theory of electronics and I'm therefore taking a basics course in it.
I'm already stuck on this problem and I would love if any of you guys would direct me to the right path to solve this problem. I don't want any complete answer for the problem, only what I should start out with to solve this.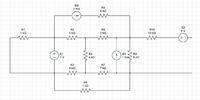 I'm allowed to use Ohms law, Kirchoff's Law of Current, Kirchoff's Law of Voltage, Nodal Analysis, Mesh Analysis or the method with incidence matrices.
What should I begin with, maybe start simplifying the circuit, how?
Last edited by a moderator: