Hi I have built this little 40m HAM band receiver and I notice sometimes that signals from commercial broadcast bands can be heard. I am mostly sure it is caused by some king of intermodulation, due to the low dynamic range of the unfiltered broadband preamp.
So I would like to test the receiver with a high dynamic range preamplifier.
One design I like, because of it's simplicity, is this one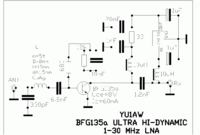 from this page
https://www.qsl.net/yu1aw/LNA/bfg135aeng.htm
I would like to do some modifications to it.
I calculate that the input inductor is about 85nH. I have molded chokes of 100nH. Can I use them in place? My simulation on this "filter" show no significant alteration of the input filtering, with this modification. After all it seems it is used there to slowly and gradually attenuate the >100MHz frequencies.
Also what If I want to power it from a 12v battery without the 7810 regulator? how should I modify it?
Last edited by a moderator: