Current market conditions demand superior and reliable products that are competitively priced. This implies industries improve the overall efficiency of equipment & plant processes and simultaneously conserve energy for achieving desired results. Flow measurement is becoming crucial for conserving energy for various utility measurements such as water, compressed air, natural gas, etc. Flow measurement is also important for various other process gases for emission controls. With strict emission norms, process efficiency needs to be tightly controlled where flow measurement is the ultimate requirement.
LEOMI AN ISO-9001:2015 CERTIFIED & START-UP INDIA RECOGNIZED COMPANY.​
Leomi
aiming for "Optimizing Life" has identified various industrial applications helping in overall process optimization and energy conservation by manufacturing high quality and reliable Thermal mass flow meters with a technical collaboration with Softflow.de which has more than 20 years of proven experience in this field. Leomi has also installed India's first fully automatic wind tunnel for In-house calibration of Insertion thermal mass flowmeter and various velocity-based instruments.
Leomi Insertion thermal mass flow meter design is based on Constant Temperature Anemometry combined with digital precision over temperature control. The physical principle of thermal dispersion from a heated element to the ambient medium (example: air or gases). This is affected by the velocity, density (temperature and pressure), and by the characteristic of the medium. The amount of needed energy is a function of the temperature difference ∆T and the mass flow.
Gas flowing through two RTD Pt-100 one reference (Tref) and the other Heater (Th). The temperature difference (over-temperature) ∆t between the reference sensor (medium temperature) and the heater sensor is controlled constantly. As per
King's Law
, the higher the mass flow rate, the higher the cooling effect of the heater sensor, thus higher the power required to maintain the differential temperature constant. Therefore, the heater power is proportional to the gas mass flow rate. (As per figure shown)
No moving parts, robust metallic construction, and direct mass flow measurement of gases
No pressure drop which saves energy against other conventional flowmeters
The highest turn down-ratio better than 100:1 provides high sensitivity helps in leak detection
High accuracy <±1.5% and resolution against conventional flow meters.
Designed up to 400⁰C operating temperature and pressure up to 16bar or higher.
Easily cleanable sensor & No significant effect of moisture like thin-film sensor does.
Can work in dirty or wet gas environments with accessories
Adjustable in various pipe sizes and versatile for different gas and mixtures.
Digital controlled with No drift and long term mechanically stable design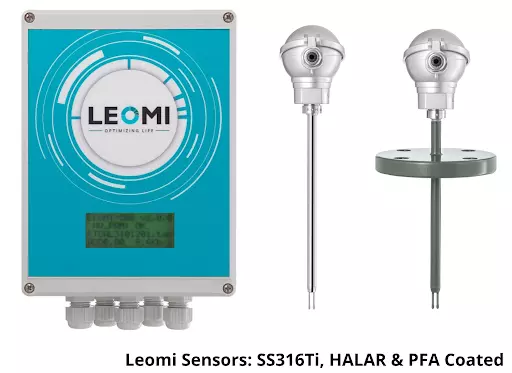 APPLICATIONS WHERE LEOMI PRODUCT INNOVATIONS HAVE BEEN SUCCESSFULLY USED:​
Compressed air flow, pressure, dew-point, power monitoring & logging for energy audits, which provides complete compressor's data with overall efficiency and able to identify leakages and conserve energy.
Flue gas & combustion air flow measurement for stack gas for emission controls having various features to the suits power plant and industrial furnaces needs
Aeration basin airflow & dissolved oxygen control system in the wastewater treatment plant
Natural gas overall utility monitoring solution in one instrument
Biogas flow measurement solutions for food and beverages.
Chemical process gas emission by special HALAR® coated, PFA coated construction flow sensor for highly corrosive gases
Welding utility gas & medical gas flow monitoring and recording for consumption & cost control.
Ventilation air control systems for critical power plants rooms and pharma clean rooms
LEOMI HAS ALSO SUPPLIED INSERTION THERMAL MASS FLOWMETER TO VARIOUS FLUE GAS APPLICATIONS SUCH AS:​
Stack gas flow measurement in few of the India's renowned coal-based thermal power plant manufacturers
Wet HCL stack gas flow measurement at renowned chemical manufacturers producing Hydrochloric 30% conc.
HCl and SO2 (equimolar) with roughly 1% moisture gas flow process exhaust from fine chemical manufacturers