good day guys..
I am doing charge pump for white LED now.
The output current is around 60mA (for the three white LEDs in parallel)
I checked the two power PMOS, and I found out that there's a 5 to 10mA current
that flows from drain to bulk (Ibd).
How can avoid this? or is there any technique to minimize it?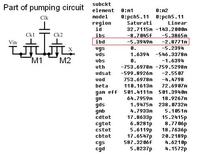 [/url]
Thank you..