hi,
I have a current sink made to vary the current from 0-3A using a potentiometer.
the circuit works great in simulation like this :

but when I add a regulator, as thats what going to happen in my power supply (output of the regulator is going to go to the current sink) this is what happens :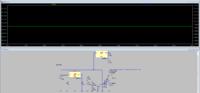 As you can, the current is limited to 1A and the voltage is 110mV. why?
Last edited by a moderator: